Covid-19 Resource centre
Looking for ResMed information on COVID-19 ? See below for regular and up-to-date communication, or contact our customer service team if you have questions.
At ResMed, we are dedicated to providing respiratory care products to countries and healthcare systems across the globe, just as we have done for decades. Now, as coronavirus (COVID-19) continues to spread throughout the world, we stand strong alongside healthcare providers and professionals treating those in need of a very high level of care.
Our long-time commitment to improving the lives of people with breathing disorders serves patients especially well in these challenging times. We are making all efforts to reach out to our community of customers to inform, engage and educate on how essential treatment can be delivered as soon as possible. Our range of invasive and non-invasive ventilation systems, CPAP therapy, oxygen therapy, masks and monitoring software solutions continue to help administer vital respiratory support in hospitals and homes.
Responses to customer questions about coronavirus
Astral and Stellar are able to entrain supplemental oxygen through the device via an oxygen port. These devices are designed to be compatible with supplemental oxygen up to a level of 30 L/min.
Lumis devices are compatible with supplemental oxygen of up to 4 L/min in iVAPS mode, or up to
15 L/min in all other modes.
At a fixed rate of supplemental oxygen flow, the inhaled oxygen concentration will vary depending on the ventilation mode and settings, patient breathing pattern, mask selection, and leak rate.
FiO2
Astral:
When an adult patient is using a non-vented circuit (double limb and single limb with valve, invasive and non invasive), almost 100% FiO2 can be achieved with an additional 30L/min of supplemental oxygen and more than 80% FiO2 can be achieved with an additional 15L/min of supplemental oxygen.
When an adult patient is using a vented circuit (Leak system), almost 75% FiO2 can be achieved with an additional 30L/min of supplemental oxygen, and more than 60% FiO2 can be achieved with an additional 15L/min of supplemental oxygen.
Stellar:
When adding 30L/min of supplemental oxygen, more than 90% FiO2 can be achieved if there is no leak, and almost 80% with a leak of 20L/min.
Astral and Stellar
 To add supplemental oxygen, please follow the instructions below:
Unlock the low flow oxygen inlet at the rear of the device by pushing up on the locking clip.
Insert one end of the oxygen supply tubing into the oxygen port connector. The tubing will automatically lock into place.
Attach the other end of the oxygen supply tubing to the oxygen supply.
Start ventilation.
Turn on oxygen and adjust (at the oxygen supply) to the prescribed flow rate or FiO2 level.
For Astral devices: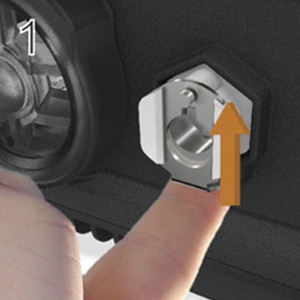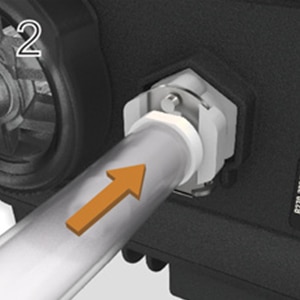 For Stellar devices: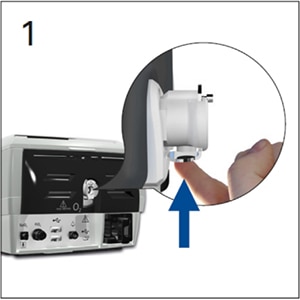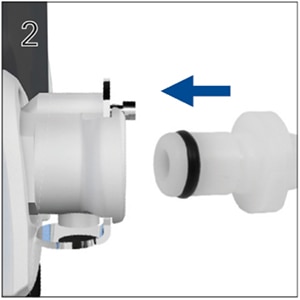 To remove supplemental oxygen:
 Before you remove supplemental oxygen from the device, ensure the oxygen supply has been turned off.
Unlock the low flow oxygen inlet at the rear of the device by pushing up on the locking clip.
Remove the oxygen port connector from the low flow oxygen inlet.
A low pressure oxygen connector (product code: 24971) is needed to connect the low flow oxygen inlet to the oxygen supply tubing. Please see below.

Lumis
To connect supplemental oxygen to Lumis devices, you can either use a ClimateLineAir Oxy tube or an oxygen connector port. For more information on how to set up the device with supplemental oxygen, refer to the user guide supplied with the accessory you choose to use.
Please note:
Adding oxygen may affect the delivered pressure and accuracy of the displayed and reported values (e.g. leak, minute ventilation and AHI).
Always make sure that the device is on, and airflow generated, before the oxygen supply is turned on. Always switch off the oxygen supply before turning off the device. Unused oxygen can accumulate within the device enclosure and presents a fire hazard.
Information about cleaning and disinfecting the external device surfaces can be found in the clinical guide. However, as COVID-19 is a novel virus, specific decontamination methods have not yet been validated.
In addition, patients should follow ResMed's cleaning procedures, as outlined in the user guide.
The Cleaning and Disinfection section of the ApneaLink Air Clinical Guide describes the validated materials and method for processing devices between patients. It is not necessary to clean the interior of the ApneaLink Air device. Based on the behaviours of this virus, and its ability to spread, ResMed has assessed the risk of cross-infection for homecare devices and determined it to be improbable. This is based on:
the difficulty of contamination reaching the device interior, and
the ability to the virus to remain viable on a surface in that environment, and

Current survival time on surfaces is approx. three days1
Current survival time as an aersol is approx. three hours1

the ability of the virus to be mobilised and transmitted to a second patient. As described by the WHO, the key transmission risk for COVID-19 is via person to person transmission in close contact.
[1] Aerosol and surface stability of HCoV-19 (SAR-CoV-2) compared to SARS-CoV-1. Van Doremalen et al 2020
ResMed has not tested or validated the use of in-line filters for the ApneaLink Air, and therefore cannot recommend the use of these filters with the product.
Information & communication
Detailed instructions are available on the product pages, and support pages, of our corporate website. You will find a range of official guides for ResMed products, including Set-Up  for our ventilation machines. Clinical guides will be on demand.
For further information, try our free education platform, ResMed Academy Online. Here, you can access a rich bank of educational resources, learning activities and expertise, designed to help improve patient outcomes.
If you do not already have an account, you can sign-up to ResMed Academy Online at no cost; the registration process is simple and should take no longer than a couple of minutes.
ResMed will soon be publishing more educational resources on the webinar.resmed.eu site, so please check back for further information soon.
For any further questions, please contact your local customer or sales representative.
We recognise that many of you have concerns regarding orders, supply and shipment in light of the coronavirus pandemic, and we are committed to providing regularly updated information to our customers across the globe. To help ensure our communications reach the community as soon as possible, we have created a dedicated COVID-19 FAQ page, which will be updated as and when new information becomes available to us.
For any further questions, please contact your local customer or sales representative.
How to prepare for COVID-19: useful information from health organizations
As the coronavirus (COVID-19) outbreak unfolds across the globe, we endeavour to support patients, customers and healthcare professionals as they navigate this challenging time. ResMed is committed to providing all possible guidance and education for our global customer base.
To aid access to relevant and verifiable information about COVID-19, we are signposting to a range of official websites. These reliable sources publish data, research findings and public health advice regularly and, wherever possible, are country specific.
We appreciate that due to the swift progression of the virus, best-practice is changing rapidly. By providing these links, we hope to guide our customers to real-time updates to assist them in their response.
The World Health Organisation (WHO) educates and informs citizens worldwide on a range of health matters. During a health crisis, the WHO provides invaluable research and situation reports to track events as they evolve.
European health agencies differ in their advice surrounding containment, treatment and public health restrictions with regard to COVID-19. To help you find the most relevant information, please click on a country-specific link below to find out what your healthcare authority recommends.
European Respiratory Society (ERS)
European Society of Intensive Care Medicine
European Society of Anaestesiology​ (ESA)
British Thoracic Society​ (BTS)
The Faculty of Intensive Care Medicine (FICM) – for critical care guidance
For healthcare professionals, we are working diligently to source the most pertinent research on COVID-19. The list below will be updated to reflect emerging insights from the medical field, as part of our commitment to support those working on frontline or ongoing response efforts.
The Society of Critical Care Medicine (SCCM) is US-based body which provides resources and updates for those working in the critical care community during times of disaster and emergency.
https://www.sccm.org/disaster?utm_source=COVID19_SSC​
To access guidance for clinicians from the SCCM:
"Surviving Sepsis Campaign: Guidelines on the Management of Critically Ill Adults with Coronavirus Disease 2019 (COVID-19)" https://www.sccm.org/getattachment/Disaster/SSC-COVID19-Critical-Care-Guidelines.pdf?lang=en-US​
For information from the SCCM on possible treatment pathways for Covid-19 patients with hypoxia:
https://www.sccm.org/getattachment/Disaster/SCCM-COVID-19-Infographics1.pdf?lang=en-US​
For information from the SCCM on various treatment pathway guidelines for Covid-19 patients:
https://www.sccm.org/getattachment/Disaster/SCCM-COVID-19-Infographics2.pdf?lang=en-US​